10:14 pm
[deathcookie]

I wrote the songs!
Take one copy of OK Computer, and add Radiohead slashiness and a bored
burnyourbones
and a slightly drunk
deathcookie
. These are the results! Well, erm, some of 'em. Warning for bad words and stuff, if anyone cares.
(
PARANOID FUCKTOY
Collapse
)
(
ERECTIONEERING
Collapse
)
(
NIPPLE POLICE
Collapse
)
I apologise for any songs I may have ruined...
11:38 pm
[burnyourbones]

Ed strikes again!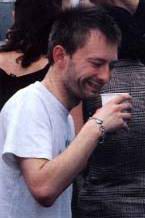 Thom - Ugh! This coffee tastes like piss!
Ed - [sotto vocce] There's a reason for that ... heh heh heh [/sotto vocce]
Current Mood:
random
6:38 pm
[burnyourbones]

Hi, my name is Het and I'm hopelessly obcessed with Radiohead
This little community was looking shamefully bare so I thought I'd post and say hello. Even though 2/3 of you know me already. D'oh.
Where are all the other addicts?! I know they exist, I've seen the cheesecake thread. 800 ish pages. There's my holiday gone catching them all up!
So. Um. Hi.
Check out my icon of Dooo00000oooOOOOOoooo0000000oom! I can't help imagining squeechy noises going with it and then laughing. Damn. But if I ignore that thought it is super hot.
Alice and Jasmine, have you written any more of The Phantom Coat Pocket Defiler? And could one of you send me it so far cause it's a crying shame to leave it unfinished.
(Oh, and Alice, can I be a mod in both senses of the word rather than merely the one? >__0)
Current Mood:
in the grip of an addiction..
2:22 pm
[yoshimistripes]

Whoa, I was looking for other people interested in RH slash and I came across this community. Oddly enough, I made one that's sorta similar a while back (though it's for all RH fanworks)
rh_fanworks
I have a Thom x Ed story there that I'm too lazy to copy and paste into here~ :D
Current Mood:
shocked